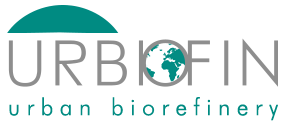 The URBIOFIN Consortium is made up of 15 recognized key actors in the fields of waste management, bioprocessing technologies (industrial processes that use biological agents to drive the process). Bioproducts (products that are manufactured using biological material as feedstock) and Biomaterials, Biofuels, Municipal Solid Waste, industrial processes and integration.
Industry: URBASER S.A., BIOMASA PENINSULAR S.A., Novozymes A/S, NATUREPLAST SAS, NATRUE AISBL, IRIS Technology Solutions S.L., Leygatech SAS, ETAM SA
Research Organisations: ainia, Wageningen University & Bioresearch, Centro de Investigaciones Energéticas Medioambientales y Tecnológicas, IRIAF (CLAMBER Biorefinery), Consejo Superior de Investigaciones Científicas
Universities: University of Valladolid

AINIA researchers created a cosmetic packaging made from a bioplastic derived from organic waste. The production of this bioplastic has been accomplished by two biochemical processes: the first is an oxygen-free fermentation process that allows organic waste to be converted into volatile substances (AGVs). These substances have been converted into a biopolmer by microorganisms in the second process. The combination of these two bioprocesses allows for the valorization of waste while also lowering biopolmerization costs.
The discovered biopolmer has been used to create many packaging prototypes for cosmetic products that have been tested by cosmetic companies Wella and Weleda.
AINIA is committed to creating an open and dynamic atmosphere that provides valuable networking opportunities. The key services connect the numerous value chains, ensuring that our affiliated enterprises and their specialists are at the forefront of the most recent market changes, both technical and regulatory.